Andy Heerschap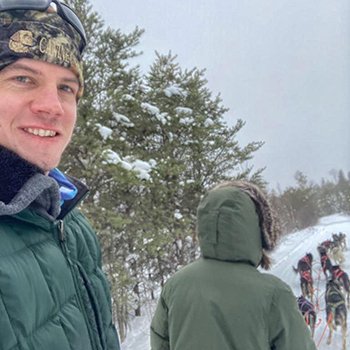 Fantastic to welcome Andy back to the Challenge, this time as a musher. With over 15 years handling and mushing experience, Andy has previously raced in the Beargrease and the Gunflint Mail run (amongst other races!)
Andy lives with his family near the City of Thunder Bay, Ontario, and trains his dog team with wife Rhonda, and their two children. Their kennel, Paws on Patrol Sled Dogs, has doubled in size over the years and now with 16 dogs they're working on the mid and longer distance races.
Dogs feature large in Andy's life...as well as looking after, training and racing his canine athletes, he works in the canine unit as a Conservation Officer for the Ministry of Natural Resources Enforcement with his doggy partner, Rex. (rumoured to be named after T-Rex we believe!) Andy was the handler for wife Rhonda at this years Challenge... he now gets to run the 10-dog race himself in 2024. Thanks for coming back.
Race: 10 Dog
Home location: Nolalu, Ontario
Occupation: Conservation Officer
Kennel: Paws on Patrol
Interests hobbies: Mushing has become my main interest and hobby. I have two kids and enjoy hunting, fishing, camping and hockey
Mushing years: 20 Years
Mushing experience: Beargrease, Gunflint Mail Run, Kearney, Wolftrack, Mid Minnesota, Copper Dog and some other local races.