Craig Houghton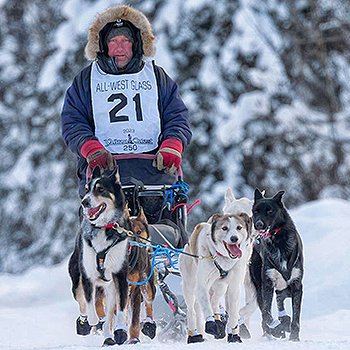 We're delighted to see Craig registered in our 10-dog race for 2024. Particularly as Craig is the founder and organiser of the Caledonia Classic Dog Sled Races and always has an extremely busy winter season putting on a brilliant mix of sprints and stage races over the first weekend in February (Feb 2 - 4 2024) at Fort St James. Along with his son Sean, Craig does find time to run his own kennels, train his own dogs, as well as canoeing, trapping and hunting when he can. This year Craig won the Sportsmanship award at the Yukon Quest 250.
Craig also manages to find some to be be the Principal at Fort St James Secondary school.
Race: 10 Dog
Home location: Fort St. James
Occupation: Principal
Kennel: Craig and Sean Houghton Racing Kennel
Interests hobbies: Dogs, canoeing, trapping, hunting
Mushing years: A few decades
Mushing experience: A variety of races from mid distance to sprints and stage races, founder and organizer of Caledonia Classic Dog Sled Races.