Jesika Reimer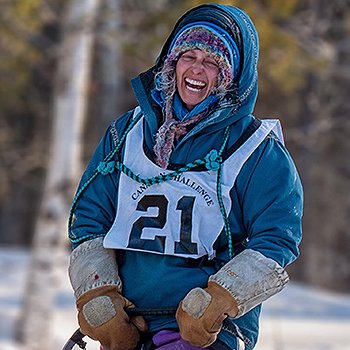 Jesika is back, and we're delighted to see this gorgeous photo again which just about captures everything that both Jesika, and this race, is all about. Jesika won our 8-dog race this year, in her first season of running 100 mile races. She is back and we can't wait to catch up with her once again. Jesika's home base is Emigrant Gap, California, but her work as a wildlife biologist takes her travelling all over. She loves her outdoor adventures with her dogs, and skijors as well as runs a small sled dog team.
Race: 8 Dog
Home location: Emigrant Gap, California
Occupation: Wildlife biologist
Kennel: The Reimer Pack
Interests hobbies: Hiking, skiing, paddling, all with at least one dog leading
Mushing years: 2 years racing, a few more skijoring and running a small rec team
Mushing experience: Worked as a dog sled guide in the Rockies in 2000's. Skijoring in Alaska, skijor races and 3-dog sprint races while helping run teams for friends racing the Iditarod. Built a 6-dog team to run 100 mile races. Now have a 12-dog kennel and raced the Eagle Cap... running the 100-mile Triple Crown circuit in 2023... in my second year running 100-mile races.